See & Do
Cape Town is an extraordinary place…
A spectacular combination of mountains, majestic beaches, reserves teaming with wildlife, and long stretches of fertile winelands with a vibrant culture. Like every holiday destination it has its must-see's…
Enjoy some of our favorites with our list of recommendations…
Trendy bars along The Camps Bay strip offer cocktails, sundowners and a place to be seen.
Try Caprice or Sandbar for drinks accompanied by local DJs.
For a trendy hang out in the city try The Bang Bang Club in Loop Street.
For the mellow and laid back try Dubliners Cigar Bar with its plush interiors and cigars and bourbon.
For a cool experience The Planet Bar at the Mount Nelson hotel for exotic cocktails, champagne, caviar and oysters. The V&A Waterfront caters for a variety of tastes including live Jazz at the Green Dolphin restaurant and a lively dinner and pub atmosphere at Quay Four and Ferryman's. The tours for The Robin Island Tours leave from the Waterfront.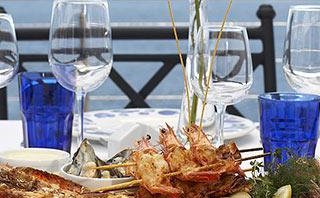 Fine Dining
The Grand – 021 4384253 – Mediterranean
Blues – 021 4382040 – Mediterranean
The Kove – 021 4380004 – Grill House
Paranga – 021 4380404 – Seafood –Sushi
Bungalow – 021 4380007 – Seafood
Hussar Grill – 021 4380151 – Steak House
The Roundhouse – 021 4384347 – Contemporary
The Pepper Club – 021 4383174 – Mediterranean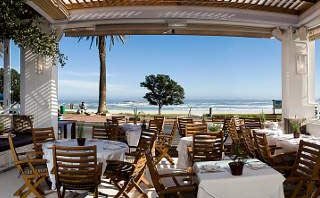 Casual Dining
Sandbar – 021 4388336 – Light Meals
Col Caccio – 021 4382171 – Pizza – Pasta
Bayside Café – 021 4382650 – Famous for Ribs
Ocean Blue – 021 4389838 – Fish/Sushi
The Codfather – 021 4380782 – Fish/Sushi
Primi Piatti – 021 4382923 – Italian
Cape Fish Market – 021 4381866 – Fish/Sushi
Tuscany Beach – 021 4381213 – Contemporary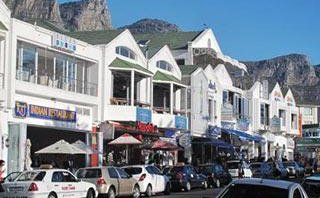 Clubs, Bars & Coffee Bars
Clubs and Bars
Café Caprice – 021 4388315 – Bar/Light Meals
The Beach Club – 021 4304444 – Bar/Sundowners
Karma Lounge – 021 4387773 – Bar/Club
St Yves Beach Club – 021 4380826 – Club
Coffee Bars
Kauai – 021 4384607 – Health
Vida Café – 021 4384655 – Portuguese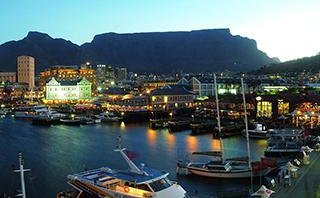 Shopping and markets, arts and curios